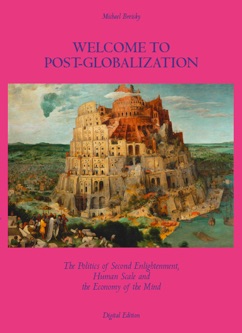 Welcome to Post-Globalization – the Politics of Second Enlightenment, Human Scale

                                         and the  Economy of the Mind

                          Preface by Austria's  Foreign Minister  Michael Spindelegger
                               Published by New European Publications,

                              London 2009,  ISBN 978-1-874210-76-0 

Based on the author's "Der Kompass im Kopf", published 2003 in Austria, the book develops a holistic and pragmatic world-view. Its centre is the idea of the Human Scale, as coined by Leopold Kohr (1909 – 1994), an Austro-American philosopher and one of the least known great geniuses of the 20th century.

What was to become the small-is-beautiful-movement  in the 1980s  is here up-dated in a spiritual perspective and  may well set the tone or the era of Post-Globalization.  Today's life in a complex world of constant change is more in need of orientation than any generation before – but all of the last 300 years' "great ideas" have failed to give lasting guidance. As the destructive consequences of modernization become more and more apparent, one might be tempted to equal the failure of the "great ideas" with the triumph of nihilism or the end of Enlightenment and its values.

The author, however, is convinced that we are only entering a new phase of Enlightenment: The unfettered use of reason in its first phase brought us progress and endowed the individual with human rights – values nobody in his right senses would like to shed.

A second phase of Enlightenment would have to enrich reason by increased understanding for context: holistic networking could thus add sustainability to progress; likewise, the re- discovery of religious and aesthetic wisdom would help to bridge the gulf between material and spiritual world.

The book sketches first the spiritual and biological framework of man, finding there important political guidance: be it man's longing for meaning, which he cannot find within himself; or be it the "wiring" of his brain, which needs "nearness" to work in a holistic way. In order to satisfy these innate traits and avoid catastrophes like a global information-overload, the author suggests an economy of the mind where the ideals of social nearness, sufficient time for free deliberation and cultural order should find a balance. After discussing major political issues of our time the book concludes with optimism: Globalization will be mastered if we turn to spirituality; focus on cooperation between small regions and global NGOs ("Glocalization"); and continue to build on the system of open process and soft power developed by European Integration.

Cover recommendations: 
"Breisky not only explains many of Leopold Kohr's most seminal ideas but also sets them in the current cultural, economic, social, political and spiritual context.  In this way he makes their relevance and importance apparent  The book embodies his own life experience, analysis, and insight informed by Leopold Kohr.    Those who recognize that present trends threaten the future of humanity in many ways will benefit greatly from reading this book." 

John B. Cobb, Jr., Professor Emeritus, Co- Founder and Director of Center for Process Studies, Claremont  CA

"Michael Breisky gives an answer to the most widely asked question of every human life, even more necessary in times of globalization: Where do we come from? Where do we go? What is the meaning of our life? His answer is based on the search for a common ground between science and the great spiritual traditions, specially Judeo- Christian revelation"

Christoph Cardinal Schönborn, Archbishop of Vienna